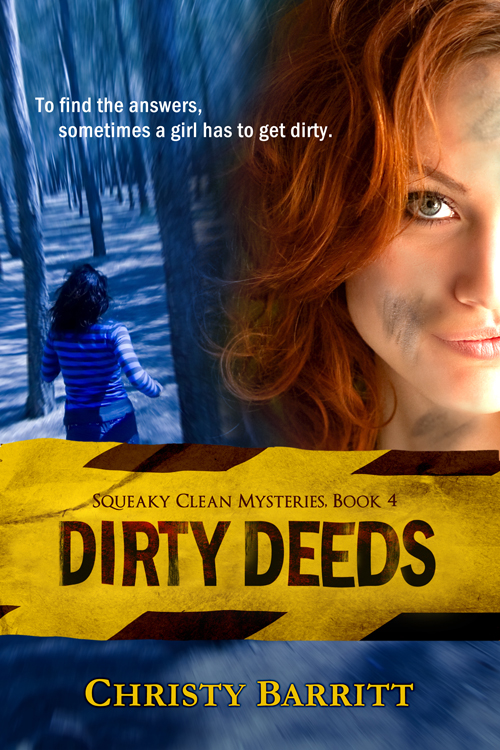 Dirty Deeds a three and a half roller coaster read.
Warning: at the end of this review there is a minor spoiler. 
Gabby St. Claire and her fiancé Riley go away together for his law school reunion and conference. He asks her to promise not to get involved in any mysteries while they're at the Healthy Springs resort. Of course, she can't help but be get involved when one of his classmates goes missing.
Secrets abound. Riley has secrets from his past that he doesn't want share. Gabby has more recent secrets. The dishonesty threatens to drive a wedge between the two.
I enjoyed reading Dirty Deeds. The mysteries are compelling and not terribly predictable. However there I had issues with several points in the novel.
The overuse of the words "mumbled" and "muttered" was distracting. Almost every character either muttered or mumbled several times.
Jackie, the woman who goes missing, and her boyfriend go to the conference together, but they have separate suites. I understood why Riley and Gabby had separate suites. They didn't want the appearance of impropriety. However, Jackie and Clint aren't Christians trying to follow their faith.
Many Christian novels have this unrealistic desire to sanitize the world instead of showing the realistic side of life. Clint and Jackie could've shared a room without making the novel unclean and it would've been much more realistic.
Veronica's character made an abrupt change with only little influence. I felt her character was not well-developed and needed more fleshing out in order to feel like a real person with a real character arc.
********Spoiler Alert********
The killer murdered Doug after they had been there for several days. His reasoning was he feared Doug might recognize him as a part of a major case he and Jackie were working on as assistant DAs in Georgia. Why did he wait for several days? If Doug recognized him, he would've already alerted the authorities. It's not logical for the killer to wait several days to get rid Doug.